Accommodation
Mountain lodge camp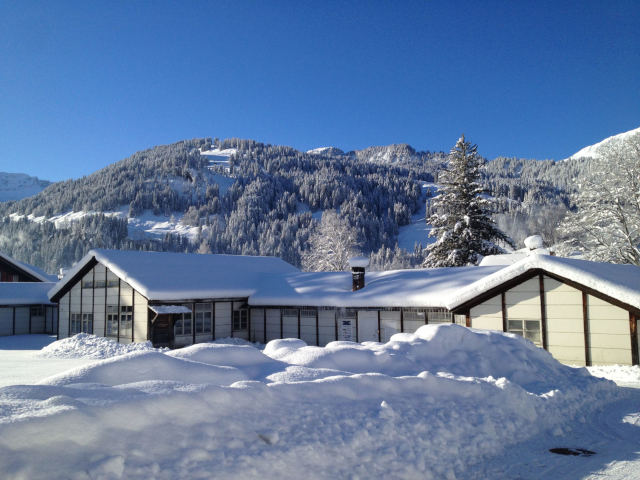 Our camp is centrally located at Lenk village and just 2 minutes walk from the train station and 5 minuets walk away from the hall.
Dorms
We have several dormitories with each between 10 - 12 sleeping spots. There are mattress and pillows but please bring your own sleeping bag.
Upgrade
Overnight accommodation in rooms with 2 or 4 beds, including bed linen.
There are spacious and well-maintained sanitary facilities with shower/toilet cubicles in the corridor.
The rooms are in the new main building and not in the same building track as the dormitories.


Address
Mountain Lodge Backpacker Camp Gutenbrunnenstrasse 3775 Lenk Google Maps CLICK HERE
Some other extra infos:
We'll place the sauna and hot pots near to the camp. There are parking places for cars and mini buses. We recommend you to come by train. Bring some house shoes for the hall and house. All the meals are in the hall. Some snacks and coffee will be provided.
Transportation
By train:
The wonderful destination of Lenk lays at the end of a beautiful and varied train ride from either Bern or Montreux. There's only one train change from Bern to Lenk. The Lötschberger train takes you hourly from Bern directly to Zweisimmen, where you'll change trains to catch the 20 minute regional train to Lenk.
Approximate travel times by train
Zurich – Berne – Lenk: 2h 30 min
Basel – Berne – Lenk: 2h 15 min
Geneva – Lausanne – Montreux – Lenk: 3h 30 min
Berne/Belp – Lenk: 1h 45 min
Tickets
Tickets can be bought in the Swiss Main Trains system SBB Prices are very relative to how soon you buy the tickets and time of train. As a obvious general recommendation book with time!
By car:
Traveling on the A6 motorway Bern-Thun, take the Wimmis/Zweisimmen exit through the Simmenfluh Tunnel, on the other side of which begins your journey up the Simme River Valley. The main road in the valley, the Simmentalstrasse. Coming from Bulle and the Canton of Freiburg, one can reach Lenk via Charmey by traveling over the Jaunpass into the Simmental (Boltigen) or by traveling via Château d'Oex-Saanen-Zweisimmen.
Approximate travel times by car
Berne – Lenk: 1h 15min
Basel – Lenk: 2h
Geneva – Lenk: 2h 15min
Zurich – Lenk: 2h 30min